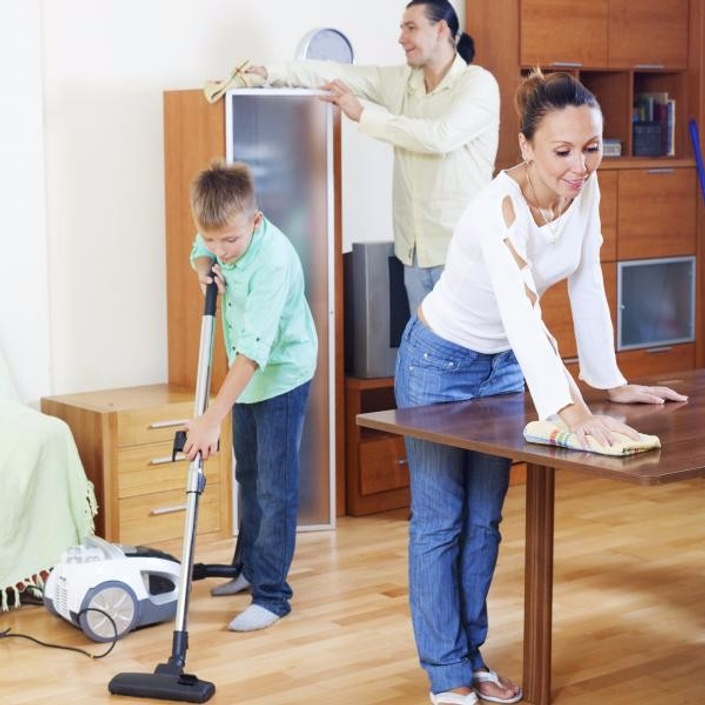 Getting Kids to Help at Home (Chores and More)
Discover Methods to Teach Your Kids Responsibility
Watch Promo
Greetings from a Mom and Gram who has been there, done that....and found a better way.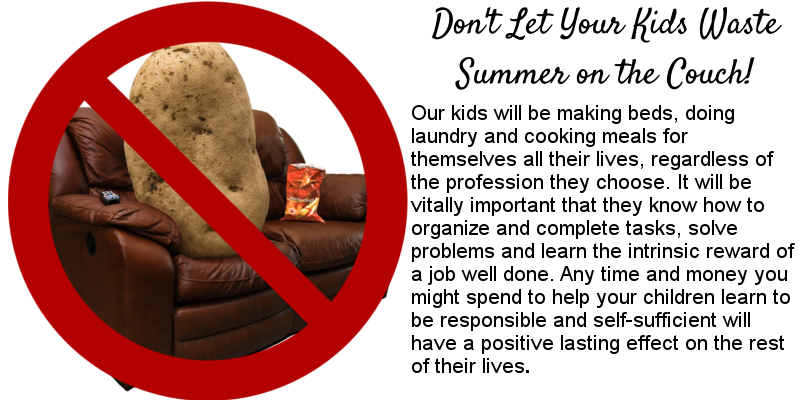 I have always loved learning and I have always loved teaching what I have learned. So, as I go about the country teaching and learning about family relationships I find that parents everywhere are struggling with some of the same conflict in their homes – too little time to spend together as a family and too much work to do around the house.
It is amazing to me that many of them have not realized that there is a single solution to both problems. We need to teach our kids to help at home. We'll get the help we need while spending time together with those we love. And, believe it or not, chores can even be fun.
Many of us, myself included, think nothing of driving clear across town and paying a handsome sum to give our kids karate, ballet or piano lessons. We don't mind sitting in the car waiting for them because we think our kids are benefiting from being there even though its doubtful that they'll ever earn their black belts in karate or dance or play piano professionally.
This course and my workshop of the same name are designed not so much to help you achieve a clean house, as they are to help you get more cooperation from your kids. But surprisingly enough, getting more cooperation usually results in a cleaner house. I've found that if you approach the process by following the four A's success is almost guaranteed.
Attitude: Have an attitude of adventure along with a cheerful and positive expectancy of mutual respect and a dogged determination to never give up.Make it fun to share the workload.
Aptitude: Teach your children the proper way to go about doing tasks.Also teach the correct tools, methods and techniques to make the work go faster.Don't just teach the how and when, but also the why.Let them know why each task benefits the family and themselves.
Attention: Focus on your kids and their futures rather than concentrating on dirt in the corner.Instead, let a clean house be the by-product of the training sessions that will teach them to be self-sufficient.
Appreciation: Appreciate and acknowledge all successes of every family member.Success breeds confidence and confidence leads to healthy children with high self-esteem.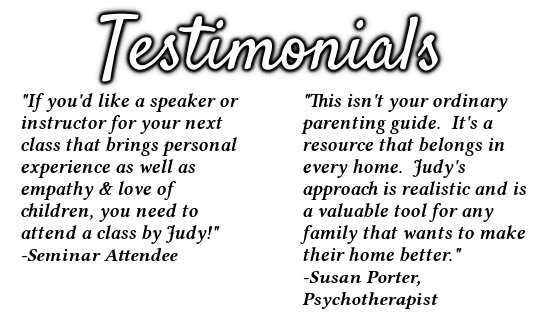 A wise man once said, "True unhappiness comes from giving up what you really want for what you want right now." Always remember that your goal is greater than to get your kids to pick up their socks. When our kids would whine (oh yeah, they did) and say "help me, I can't do this" My standard answer is "How about I help you to help yourself and then you will always know how to do it."
Your goal as parents and caring adults is to teach life skills and values that will last your children a lifetime.
Good luck to you all!
Your Instructor
"Visiting with Judy is like having a cup of tea with a loving auntie"
Judy is a life educator, family & pet grief coach, and keynote speaker who has written more than 20 books, hundreds of articles and speaks internationally. She has recently began a new company Animal/Human/Connection, which will be an off shoot of Artichoke Press LLC.
This heartfelt business will train Pet Grief Coaches to work with those who are coping with the loss of a beloved pet. As a member of WIPIN (Women In The Pet Industry) and a radio host interviewing those in the pet industry, she has gained a great deal of expertise and insight.
Artichoke Press is not Judy's only self-starter project. Judy has owned and managed numerous small businesses, and her entrepreneurial experiences as a mother of six and a stay-at-home-mom is what prompted the National Association of Home-Based Moms (NAHBM) invite her to join their expert advisory council.
What's With The Artichoke?

The symbol of the artichoke has great meaning for Judy in her teaching and writing. As she works with families, she sees that frequently only the outer edges are exposed, which can be prickly and sometimes bitter to the taste. But, as you expose the artichoke and people to warmth, caring, and time, gradually the leaves begin to open and expose the real treasure--the heart.
The artichoke also became a teaching lesson when Judy, as a young military mother, moved her family into military housing in California to find a surprising collection of artichokes planted in their yard. Knowing it takes two years for the vegetable to grow, Judy realized the original gardener never saw the fruits of their labor, but planted the artichokes anyway. Judy was reminded by this experience that many times in life our actions toward others are felt by people we will never meet, but we plant the seeds of kindness anyway.
Be Part of the Animal Human Connection

Claim your copy of any number of books on the different websites and sign up to join our community of kind, thoughtful people who have respect for all, two-legged and four-legged.
People who resonate with the message of kindness, compassion and personal growth are special. They are the type of like-minded people we like to hang with. You will always be glad you became a part of the community.
You will enjoy Judy's approachable manner, wonderful storytelling and common- sense solutions gleaned from working with hundreds of families and organizations just like yours. Your encounter with Judy will leave you feeling inspired, entertained, and especially motivated.
Judy is a regular columnist for Women's Online Magazine and Montana Woman.
Course Curriculum
Introduction
Available in days
days after you enroll
Foundation
Available in days
days after you enroll
Expectations
Available in days
days after you enroll
Frequently Asked Questions
When does the course start and finish?
The course starts now and never ends! It is a completely self-paced online course - you decide when you start and when you finish.
How long do I have access to the course?
How does lifetime access sound? After enrolling, you have unlimited access to this course for as long as you like - across any and all devices you own.
What if I am unhappy with the course?
We would never want you to be unhappy! If you are unsatisfied with your purchase, contact us in the first 30 days and we will give you a full refund.
Greetings from our family to yours;
This course was not just an investment in right now, but in a better tomorrow. When your kids know how to assume personal responsibility, they will stand head and shoulders above others in the world of work.
As I use interns from the University of Montana, it is easy to spot the ones who have had to do chores at home. They are problem solvers and self directed.
You want your children and the children your influence to be that kind of a "Problem Solver" who can get a job any where any time. Trust me when I tell you that some of our friends who did everything for their kids and saved their fanny all the time are now regretting it. Mainly because they have boomeranged back home and are living in the basement.
My biggest gift to you is the hope for tomorrow and to tell you that your sacrifice (of sticking to your guns and making them finish the job) right now will pay great dividends in the future.
Blessings,
Judy Helm Wright aka "Auntie Artichoke"